Why Leicester City Will Compete In The Premier League This Year
Jump back to April 13th of this year –  Leicester City Football Club are in last place in the Premier League and are in real danger of getting relegated. As last season came to a close, something miraculous happened. Leicester survived – the "Great Escape" as they call it in the East Midlands. Leicester won key games down the stretch last season and ended up finishing in 14th to stay in the Premier League. They were only the third team ever to not get relegated when being in last place during Christmas.
Over the summer Leicester lost Esteban Cambiasso, who decided not to renew his contract. Cambiasso played a major role in keeping the foxes up with his great leadership and experience. Leicester also decided to part ways with their manager Nigel Pearson. But Leicester made some key signings that can help them exceed expectations this year.
Leicester made three major signings in Robert Huth, Shinji Okazaki, and Gokhan Inler. Huth played last season on loan at Leicester and is a strong center back that will help improve Leicester's defense. Okazaki is a Japanese striker who is the top active scorer for the Japanese National Team. He is a good, complete striker that can help add an extra element to Leicester's attack.
The big move that Leicester made was the signing of Gokhan Inler from Napoli for £3 million. Inler is the captain of the Swiss national team and has loads of experience under his belt. He has played in the Champions League and Europa League and will play a role in the midfield similar to Cambiasso's last season.
After the shocking firing of Nigel Pearson over the summer, Leicester brought in Claudio Ranieri as their new manager. Ranieri has lots of experience and managed Chelsea for 4 seasons. Ranieri has had lots of success as a manager and should bring that success to Leicester.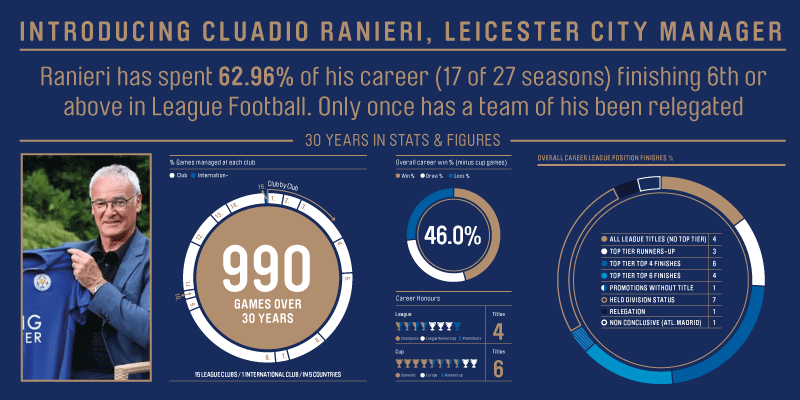 Leicester played well during many parts of last years campaign they just struggled to get points. Leicester have found a way to get points and that is through scoring goals and not settling for draws. The main person that is pulling the strings for them at the moment is attacking maestro Riyad Mahrez.
Mahrez has very high potential and is playing at his best at the moment. The pacy, skillful winger has scored 4 goals in 3 games to start the season. Opposing teams can't stop him and as long as he is scoring goals Leicester can keep up with any team in the League.
Since the start of April, Leicester City have won more points (29) in the Premier League than any other side. #LCFC pic.twitter.com/w9B4oleimU

— Squawka Football (@Squawka) August 22, 2015
//platform.twitter.com/widgets.js
Leicester have one of the easiest schedules in the league. In their next 10 matches, their toughest opponent is Arsenal and then do not play another top 6 team until December. If Leicester can keep their momentum going I think they have a realistic shot of being in the top four until at least December.
Leicester have built a solid squad and have a favorable schedule. There is lots of great things going for Leicester at the moment and they should be able to challenge for a top half finish in League and have a deep cup run this season.