NBA Playoffs: Most Interesting First Round Match-Ups
The first round of the NBA Playoffs can often be boring. In a format where more than half of the league makes the post-season, we're too often left with uninspiring teams that are hopelessly outmatched by superior opponents, making for lack-luster viewing material.
This season, though, we have a number of great match-ups in each conference. From great individual talents to gripping narratives, there's plenty to watch as the playoffs get underway. Let's break them down.
Rockets Vs. Thunder
The top two MVP candidates, James Harden and Russell Westbrook, will go toe-to-toe in our first series. Both have cultivated unique and engaging individual styles of play. Both have had eye-popping statistical performances this season. AND they used to be teammates!
This series offers no lack of entertainment opportunities. Would you be surprised if Russ averaged 40 points, 15 rebounds and 15 assists per game this series? Or if Harden had a game or two like his 53 point,17 assist,16 rebound performance against the Knicks earlier this season? What if Westbrook got into a fight with long-time nemesis Patrick Beverley and used his demi-god powers to pull Beverley's heart out, Temple Of Doom-style?
The general sense this year has been that Harden has been more successful than Westbrook at making his teammates better. In fairness, Harden has better players around him, and it's hard to say Westbrook won't pass when he's averaging 10 assists per game. Still, Westbrook's historic ball domination has made it hard for his teammates to develop as the season has progressed, while Harden has put his guys in position to do what they do best, from catching lobs to chucking threes. It will be intriguing to see which style of ball dominance will win out, even if Houston's superior talent makes the difference.
No matter how this series goes, expect highlights like this: And this: Clippers Vs. Jazz
These two teams are unknown in their own ways. It feels weird to say that about the Clippers when they've been working with the same core of Chris Paul, Blake Griffin, DeAndre Jordan, and J.J. Redick for years now. But because of injuries, Los Angeles hasn't had a chance to put its best foot forward, a problem in playoffs past and in this regular season.
That core of players is nearing the end of its rope; the pressure is on to perform now. How will the Clippers respond in this playoff? Can they find another, even more heart-breaking way to choke this season?
The questions surrounding Utah are much more straightforward. How will this young, talented team handle its first taste of playoff basketball? That question is more important than you might think.
Utah's youth would suggest they have plenty of cracks at the post-season, but Gordon Hayward is an unrestricted free agent this summer. If the Jazz get steamrolled in the first round, Hayward may seek a team ready to win now. On the other hand, if Utah eliminates the Clippers and at least gives Golden State a run for their money in Round 2, Hayward will probably feel compelled to stick around.
In addition, these are two really good teams. The Clippers have a 14.9 net rating when Paul is on the court and a 43-18 record in games he plays, including seven straight wins to close the season. Jordan and Rudy Gobert are two of the best rim-protecting and rebounding centers in the league. Hayward has had a breakout year, averaging 22 PPG and 5.4 RPG on 47% from the field and 40% from three. There are cool match-up possibilities, including Gordon Hayward potentially guarding Blake Griffin in small-ball lineups.
By the way, Hayward might not want to do that if Griffin is back to Mozgoving all over people.
Celtics Vs. Bulls
There isn't a ton of respect for this Celtics team even though they earned the East's top seed. And when you investigate further, the doubters aren't completely wrong.
Point differential and net rating are the best indicators of a team's performance, and Boston's point differential of plus-2.7 and net rating (points per 100 possessions) of plus-3.1 are the worst marks for a No. 1 seed since the 1978-79 Supersonics. It's a team that shoots a ton of threes (33.4 attempts per game, third in the league), but doesn't make that many (35.9%, 14th in the league). They have a 108.4 defensive rating (13th) and rank 25th in defensive rebound percentage.
Now, the Bulls are a flawed team in many ways. They have no shooting and are prone to vanish on any given night. But they play good defense (6th ranked DefRat) and would have the best player on the court in Jimmy Butler. All due respect to Isaiah Thomas, but the reason the Celtics have struggled in the playoffs the last two seasons is because it's hard to build a sustainable offense around a 5'9 point guard's scoring ability.
No one would be surprised if the Bulls take the Celtics to a seventh game, and anytime a 1-8 match-up is a trendy upset pick, that series instantly becomes must-see TV.
Also, the potential return of playoff Rajon Rondo on his old stomping grounds at the parquet is too good not to mention. If we start seeing performances like the one below, the Celtics will be in for the fight of their life.
Cavaliers Vs. Pacers
I'm basing this purely on the incredible game between these two on April 2. LeBron James had 41 points, 14 rebounds, and 11 assists in a 135-130 double overtime Cavaliers win, while Paul George was also brilliant in putting up 43/9/9. It was enthralling to watch them go back and forth late in the game, trading clutch buckets in their version of the famous Larry Bird-Dominique Wilkins duel in 1988.
That James-George match-up is the main point of interest in this series. We all know about LeBron's consistent dominance, but George has come into his own late in the season. George has averaged 28.8 PPG and 10.6 RPG in his last 21 games as he has really stepped up to lead his team to playoff spot.
George is one of the few wings in the NBA with the blend of size, athleticism, and skill to keep up with James, and it showed in his previous playoff performances against the King. This should be great competition between two fantastic players.
Other storylines to keep in mind in this series: Can the Cavaliers mesh and fix their defensive issues?… What would a Cleveland sweep mean for Paul George's future in Indiana? What if he single-handedly takes the Cavs to the brink?… Can Kyrie Irving maintain his image as playoff assassin?… Will the heavy regular season workload and  41,000 minute odometer finally have their effects on LeBron?… And of course, most importantly: WILL LANCE STEPHENSON BLOW IN JAMES' EAR?!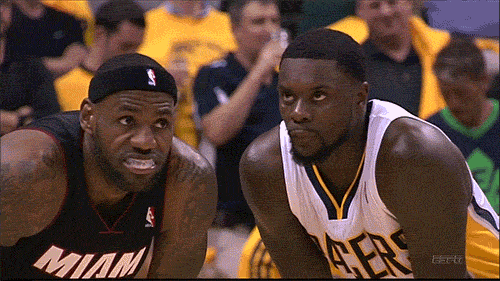 We can only hope.
Categories
Boston Celtics, Chicago Bulls, Cleveland Cavaliers, Houston Rockets, Indiana Pacers, James Harden, Los Angeles Clippers, NBA All Stars, NBA Analysis, NBA News, NBA Playoffs, NBA Teams & Players, Oklahoma City Thunder, Utah Jazz